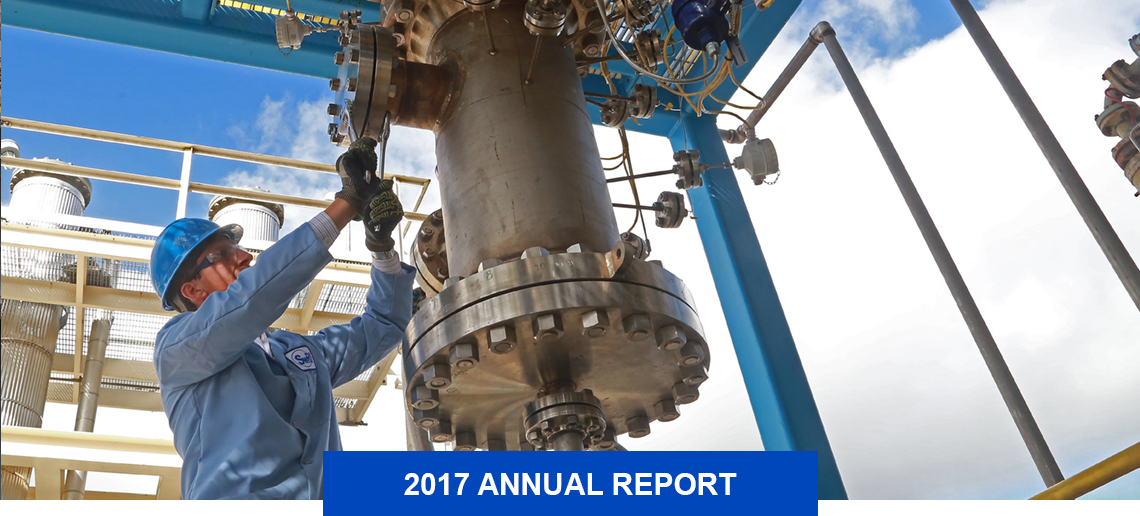 Southwest Research Institute chemists and chemical engineers work with our clients to develop and commercialize new fuel and chemical technologies, provide solutions for homeland security threats and address emerging challenges to human health and safety. Our scientists verify the purity of and identify trace toxins in consumer products and develop novel drug formulations and products that enhance the nutrition, appearance and taste of foods.
In 2017, SwRI completed testing of a prototype system that would allow soldiers to destroy chemical warfare agents in remote arid locations without the logistics burden of providing water. The SwRI-developed destruction process uses a vehicle engine to burn the agents as fuel and a soil-based dry process to remove acid gases from the exhaust.
For the energy industry, SwRI engineers and scientists develop and validate novel processes to upgrade and refine hydrocarbon products from bio-based feed stocks and other alternative sources using our large-scale pilot plants and extensive laboratory facilities. We are developing innovative processes to produce olefins, a critical raw material for many plastic and chemical products. These processes provide a market advantage by allowing our clients to benefit from the low cost and ready availability of light hydrocarbons.
We have enhanced our integrated Current Good Manufacturing Practices pharmaceutical and bioengineering facilities to expand our production of pharmaceuticals for clinical trials and commercial sales. These include controlled-release formulations for vaccines, anti-inflammatory medications, high-potency cancer therapeutics and tamper- and abuse-resistant pain medications.
We have taken advantage of new mobile communications technology to accelerate the processing speed of SwRI's custom Rhodium™ drug discovery software. Rhodium is now up to four times faster, greatly increasing its capacity to screen drug candidates. Our drug design and optimization process successfully developed lead candidates to treat Ebola and antidotes to reverse effects of pesticide or nerve agent exposures.
We are leveraging our 70 years of experience in microencapsulation to meet client needs in pharmaceutical, veterinary, food, nutraceutical, agricultural, and consumer products, as well as oil and gas applications. The U.S. Food and Drug Administration recently approved the first and only extended-release, intra-articular injection for osteoarthritis-related knee pain, which was formulated at SwRI. In addition, we are using novel FDA-approved implant technology to protect against HIV and to treat opioid addiction, Parkinson's disease and thyroid imbalances.
In the fire safety arena, engineers are also studying how relatively small fuel leaks can have catastrophic effects when fumes create explosive atmospheres. We are conducting experiments evaluating how gas mixtures, ignition sources and confinement affect the detonation process and are using this data to develop computational techniques to model risks and impacts to surrounding structures.
Fire retardants common in household appliances, furnishings and insulation remain controversial, in terms of both efficacy and toxicity. In 2017, we evaluated the relative toxicity of smoke produced by materials with and without fire retardants to provide critical information on how combustion by-products might affect human health. This research is particularly relevant for fire fighters, who are repeatedly exposed to these particular hazards.
For more information, visit chemistry.swri.org or contact Vice President Dr. Michael MacNaughton, +1 210 522 5162.