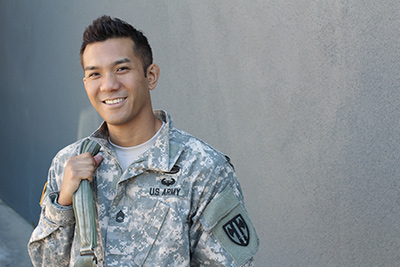 Transitioning military skills to the private sector
SwRI has a long history of supporting veterans and reservists. Our Veterans Recruiting Plan enhances our efforts to hire and retain veterans and reservists as employees. Veterans of the U.S. military are well educated and trained individuals who are proven leaders, are mission focused, have a strong work ethic, and are team players.
We participate in military recruiting events throughout the year and have a dedicated recruiter to take the lead in recruiting veterans who are seeking new challenges. Contact our recruiter for more information on SwRI employment opportunities.
SKILLBRIDGE DOD TRAINING PROGRAM
SkillBridge allows officers and enlisted members of the U.S. military the opportunity to develop transferrable skills through civilian on-the-job training, internships and apprenticeships. SkillBridge participation is only authorized within the 180 days prior to a member's retirement or separation date, with an anticipated honorable or general discharge. The Department of Defense will cover military pay and benefits during a service member's time in the SkillBridge program to allow the service member to fully immerse themselves in the invaluable experience the program offers.
At Southwest Research Institute, we are committed to providing our military service members with an opportunity to intern alongside our highly skilled engineers, scientists, and technical staff while gaining valuable skills and work experience during the exciting transition to the civilian sector.
For questions or details about the Southwest Research Institute SkillBridge Program, please contact us. For more information, read our press release or visit the U.S. DoD SkillBridge website.
MEET SOME OF OUR VETERANS
SwRI made my transition to the civilian workforce easier by helping me recognize how to best apply my military training and experience to my new position.
– R. Briseno (U.S. Navy)
The best advice I can give to someone that will be separating from the military and looking for employment is to find a way to translate your skills from military to civilian life. Be ready to get some retraining to make sure your skill set is relevant to modern expectations.
– T. Alger (U.S. Army)