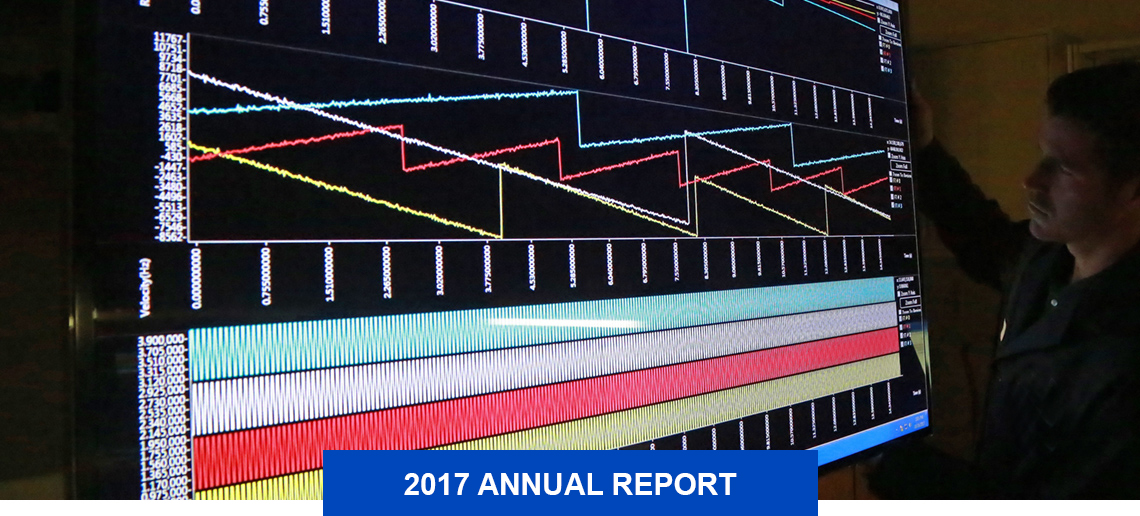 For 66 years, Southwest Research Institute electronics engineers have conducted research in direction finding, surveillance, geolocation and tracking, supporting the United States and its allies in these important defense areas. We also support the military with our work in cyber technology, electronics integration and avionics systems.
We are developing the Advanced Electronic Warfare Laboratory, a first-of-its-kind system used to evaluate and improve modern and future radio systems. The AEWL supports signals intelligence, electronic intelligence, communications, radar warning, electronic attack and electronic countermeasures missions. The laboratory simulates a realistic electromagnetic environment — cluttered with a variety of signals from radio devices — that allows technology developers to assess the effectiveness of new capabilities in a repeatable, real-time, closed-loop setting. The system will save both time and money by reducing the need for live test exercises.
Our Electronic Warfare Test System, developed last year, automatically validates signal requirements for radar and electronic countermeasure systems. This year, the system discovered three possible problems in aircraft attack pods that could not be detected with previous test systems. We confirmed and documented two of the problems and are investigating the third. Modifications and improvements to the system will enable it to determine if a problem is software or hardware related.  
For the Commonwealth of Australia, we completed the initial design review for the Anzac communication electronic support replacement program. This step completes Phase 1 of a multimillion-dollar, multi-year program to install our communications intelligence equipment aboard Anzac-class frigates operated by the Royal Australian Navy. 
Image courtesy Jenkins Engineering Defence Systems
We are leading an effort for the National Spectrum Consortium to prototype dynamic spectrum access architecture to enable Department of Defense radio communications to coexist within the same frequency band used by commercial broadcast services. Television and radio stations use this band to transmit mobile video, audio and text news stories from remote locations to their broadcast facilities. A key objective of this effort is for military radios to never interfere with these operations.
In 2017, we redesigned the threat timing generator card for the Multiple Threat Emitter System (MUTES) and Mini-MUTES. These systems simulate enemy radar to train U.S. Air Force flight crews. In related work, we also are redesigning computer assemblies for both systems and repairing Mini-MUTES equipment.
Using internal funding, we continued to refine Scout™, an SwRI-developed, portable, wideband radio frequency survey and monitoring system that has aided the intelligence community for over five years. This past year, we created several novel designs for a fixed-site, low-cost VHF/UHF direction finding antenna. This antenna will augment Scout's signal intelligence collection capabilities. 
For more information, visit defense.swri.org or contact Vice President Nils Smith, P.E., +1 210 522 3685.