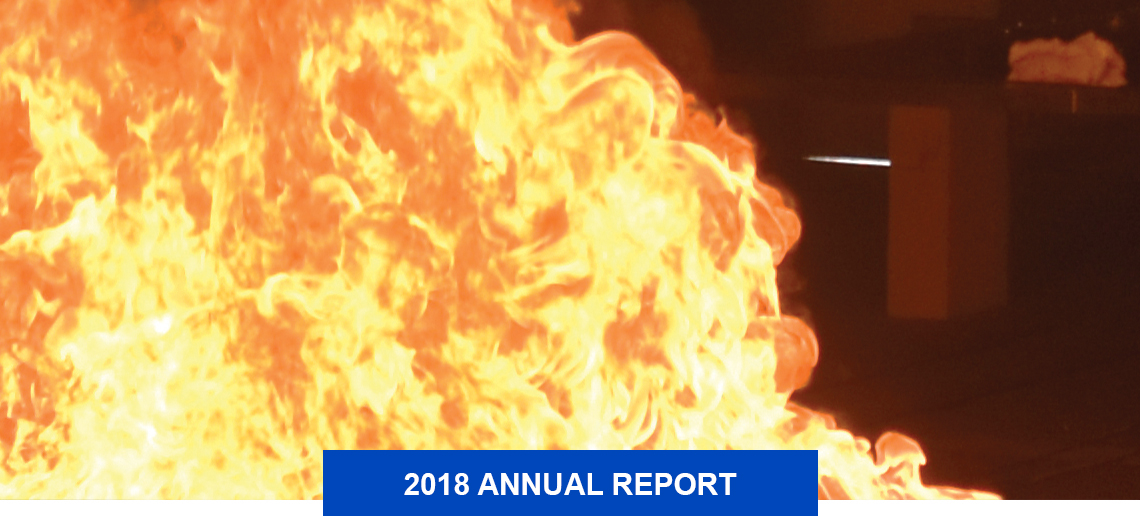 About the Header
Fire specialists expose fully charged electric vehicle batteries to gasoline pool fires. Part of a larger program evaluating battery performance, the test assesses their resistance to fire and explosion.
Southwest Research Institute chemists and chemical engineers help clients address homeland security threats, develop new fuel and chemical production techniques, and devise solutions to emerging challenges to human health and safety. We specialize in creating novel, scalable processes to produce advanced drug formulations, enhanced consumer products, and specialty chemicals and fuels.
In 2018, SwRI chemical engineers continued designing, fabricating and validating novel processes to upgrade and refine hydrocarbon products from natural gas, bio-based feedstocks and other sources. To improve safety, increase efficiency and decrease waste, we design, build and test novel processes to generate fuels, polymers and specialty chemicals. Using our extensive lab facilities and pilot plant expertise, we developed an innovative, continuous process to produce a thin aerogel film with a high gas content and low dielectric constant. These polymer insulating materials, used in thermal and electronic applications, are currently produced using less efficient batch techniques.
We are leveraging 70 years of experience in microencapsulation to create innovative products for the pharmaceutical, veterinary, food, nutraceutical, agricultural and consumer markets. We continue to enhance our integrated Current Good Manufacturing Practices facilities to expand pharmaceutical production for clinical trials and commercial sales. During the past year, SwRI manufactured a CGMP supply of eRapa™, a proprietary formulation of rapamycin designed to treat prostate cancer, for a Phase 1 clinical trial. Applications for drug delivery implant technology are growing, particularly to ensure treatment compliance. Our scientists are designing a drug-eluting platform for malaria prevention as well as Parkinson's disease, opioid addiction and addiction relapse treatments.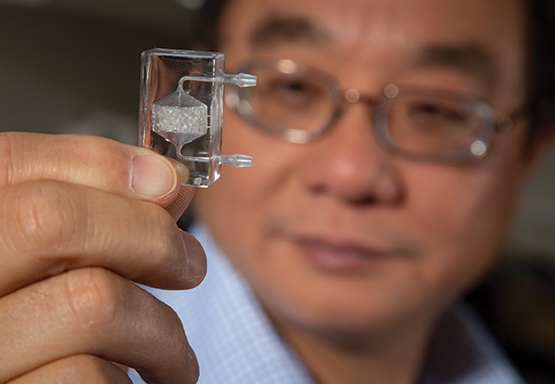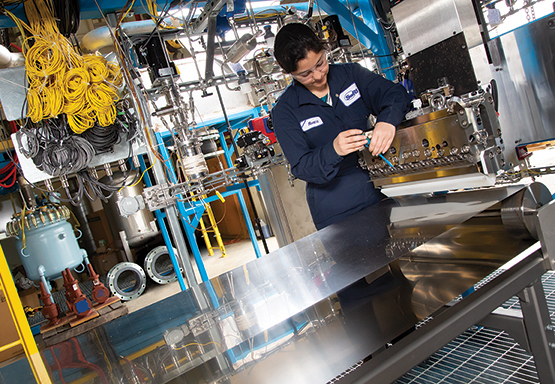 In the drug synthesis arena, SwRI is developing techniques to lower the treatment costs for malaria, one of humanity's most deadly infectious diseases. Funded by a Bill & Melinda Gates Foundation grant, the novel process is using a new chemical process to cost-effectively synthesize high-quality, semisynthetic artemisinin, the primary drug used to treat the mosquito-borne illness. While highly effective, conventional artemisinin treatments are costly, which can be a barrier to widespread treatment for affected communities.
To provide an immediate response to industrial and combat exposures, we are developing a medical device to deliver a precise dose of an intranasal cyanide antidote. Chemists are collaborating with engineers across the Institute to ensure the device consistently delivers an exact volume of the spray.
SwRI also continued more than 30 years of supporting chemical weapons destruction. For the Defense Advanced Research Projects Agency, we are developing a tactical vehicle capable of driving in, destroying chemical warfare agents with its own diesel engine and then driving out. Chemists also developed a lightweight ammonia-based technique to scrub acid gas from the engine exhaust. SwRI will build and test this half-ton pickup-truck-based system in 2019.
We also continue to operate one of the world's largest organizations dedicated to fire technology, research and testing. Our multidisciplinary fire and explosion testing and research services include third-party evaluations to ensure materials and products meet standards. New building codes will allow for environmentally friendly, seismically strong all-wood midrise structures up to 15 stories high. SwRI has developed new tests to examine the fire performance of wooden joint assemblies and to measure the thermal resistance of glues used in laminated timbers.
For more information visit Chemistry & Chemical Engineering or contact Vice President Dr. Michael MacNaughton via email or call +1 210 522 5162.