GSA OASIS Contract Overview
GSA OASIS is a multiple award, Indefinite Delivery Indefinite Quantity (IDIQ) contract that provides flexible and innovative solutions for complex professional services. This GSA contract:
Spans many areas of expertise and mission spaces
Spans multiple professional service disciplines
Allows flexibility for all contract types, including hybrids and cost-reimbursement, at the task order level
Allows ancillary support components, commonly referred to as Other Direct Costs (ODC), at the task order level
The core disciplines of the GSA OASIS contract include program management services, management consulting services, logistics services, engineering services, scientific services, and financial services.
GSA OASIS Program Manager at SwRI
Janice Dean
+1 210 522 5180
Fax: 210 522 3496
GSA OASIS Contracts Manager at SwRI
Cory Miller
+1 210 522 6991
Fax: 210 522 3559
SwRI DUNS Number
007936842
Contractor Capabilities
SwRI will apply its breadth and depth of resources and expertise to solve complex technical challenges that span the OASIS lifecycle phases and mission spaces. We are poised to offer professional, technical, engineering, scientific, test, evaluation, and rapid response solutions under GSA OASIS Pools 1, 3, 4, and 5B.
SwRI GSA OASIS Contract Documents
System for Award Management Site
GSA OASIS Site
One Acquisition Solution for Integrated Services (OASIS)
OASIS Program Office & Overview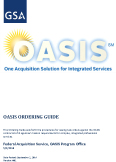 Marketing Materials
Sustainability Disclosures
SwRI Environmental & Safety Policies