Next time you are stuck in traffic amid a sea of tail lights and exhaust emissions, imagine a roadway where movement is fully and intelligently connected to prioritize mobility and safety. Vehicle-to-everything, or V2X, aims to integrate transportation offering near-real-time connectivity with other vehicles, networks, pedestrians, devices and roadway infrastructure. Millions of vehicles, people and transportation technology would be in constant communication, providing seamless interchanges, rerouting journeys away from congestion, dynamically updating traffic controls, efficiently allocating parking and so on.
DETAIL
What are V2X technologies? V2X (vehicle-to-everything) includes networks, devices and data shared via V2V (vehicle-to-vehicle), V2N (vehicle-to-network), V2P (vehicle-to-pedestrian), V2D (vehicle-to-device) and V2I (vehicle-to-infrastructure) connectivity.
According to one forecast, the automotive V2X market is slated to grow at an annual rate of 38%, from $619 million in 2021 to more than $2.2 billion in 2025. The numerous benefits of V2X implementation, however, face challenges, including requiring a secure system that ensures privacy, authenticity and security for all types of V2X communication. Deploying V2X requires coordinated action across the mobility marketplace, from individual automakers to federal, state and local transportation agencies to infrastructure technology and communications networks.
With more than two decades of leadership in intelligent transportation technology and applications, Southwest Research Institute is on the vanguard of V2X research, development and deployment. SwRI engineers are leading a project to develop a data exchange platform for the Florida Department of Transportation (FDOT).
This system will leverage cloud, fog and edge computing to analyze road conditions and communicate important information to the traveling public, state/local government entities, private sector partners and other stakeholders. The platform will archive data to allow long-term historic analyses to support data-driven infrastructure investments and research initiatives.
SAFETY CENTERED
No matter how it operates, V2X is all about safety. The U.S. Department of Transportation's National Highway Traffic Safety Administration (NHTSA) estimated that 31,720 people died in motor vehicle crashes from January through September 2021, an increase of approximately 12% from the 28,325 fatalities projected for the first nine months of 2020. These data represent the highest number of fatalities during the first nine months of any year since 2006, and the highest percentage increase during the first nine months in the Fatality Analysis Reporting System's history. Moving the needle to enhance roadway safety could not come soon enough.
NHTSA estimates vehicle-to-vehicle (V2V) alone could reduce crashes by 13%, resulting in over 600,000 fewer accidents each year. The U.S. Department of Transportation estimates that V2X technology could reduce unimpaired driver crashes by as much as 80%. With V2X, all traffic participants will be able to better perceive and predict each other's behavior on the road. That will reduce crashes, congestion and other inefficiencies.
The FDOT project will be among the first in the United States to develop a V2X data exchange, capturing data from thousands of devices across connected and automated vehicle (CAV) and infrastructure networks. A key objective of the project is to standardize the collection, analysis and sharing of data from several disparate systems, which have different coding and encryption methodologies, and to make additional considerations for privacy and safety. The primary goal is to save lives and move people more efficiently on roadways by sharing driving conditions. This data exchange will lay the foundation for FDOT to send alerts to drivers and traffic managers to coordinate routing, road closures and emergency responses.
Another important aspect of safety is security, including hardening the technology for cybersecurity. The exchange will capture anonymous data both from standardized onboard units communicating directly with FDOT-owned roadside units and from the proprietary data feeds of various car manufacturers and fleets.
This connected vehicle data will be fused with a breadth of other data both from FDOT-owned infrastructure and from third-party data feeds. This stream of enriched data will be the basis for alerts in the near term as well as analyses of long-term data to combine machine learning and traditional algorithms to understand trends and ultimately revolutionize how to manage traffic.
COMPLEX COLLABORATION
Perhaps the most significant aspect of this program is the team of players involved in its development, which highlights the level of cooperation needed to deploy V2X on a wider scale. The SwRI-led team includes tech companies, vehicle manufacturers, academia, cloud and network providers, original equipment manufacturers (OEMs) and fleet companies, as well as transportation agencies and the communications sector. The V2X Data Exchange Platform is intended to encompass FDOT's operational, in-development and planned CAV project corridors. The system will enable FDOT to disseminate CAV information to the automobile industry, logistics providers and other third parties to consume for their specific applications.
This V2X architecture takes advantage of a variety of computing and data storage resources, serving as different layers of an overall application. Generally speaking, the edge processes data locally to reduce network traffic and resources. The fog acts as a gateway, collecting, combining and processing relevant edge data, distributing some back to the edge and some back up to the larger cloud of data. The cloud then intelligently stores the information to provide access to data and archive long-term materials.
Some of the challenges facing V2X are similar to those faced in other internet of things (IoT) applications, where networks of disparate devices must learn to communicate and collaborate in near-real-time applications but in a cloud-based digital ecosystem. The key to the V2X applications is employing fog and edge computing. In this application, the fog processing is largely provided by the intelligent transportation systems whereas the edge is largely a function of increasingly intelligent, connected vehicles and roadside equipment.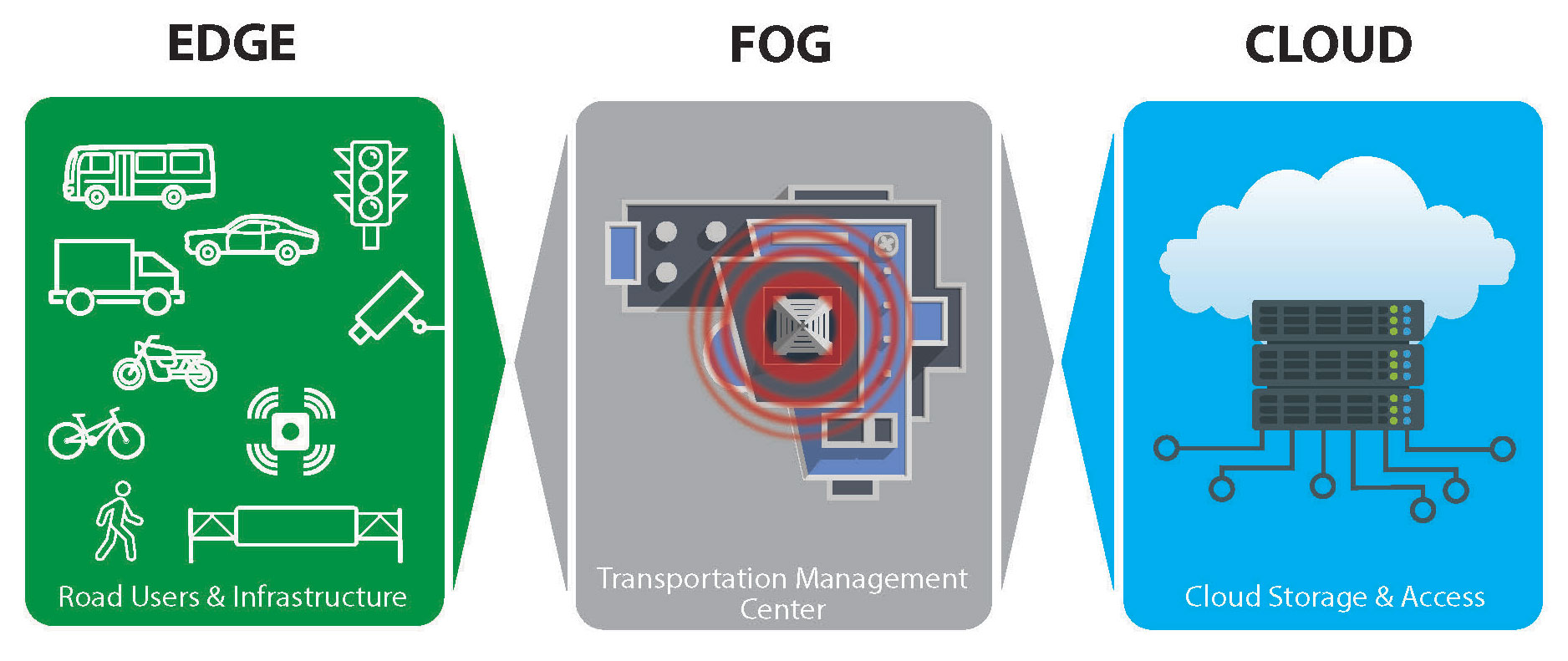 EDGE
The vehicle edge is a critical component in V2X, so the automotive industry is undergoing a series of transitions, moving toward digitalization and connected mobility. While sales of traditional cars are decreasing, sales of connected cars are increasing, signaling changing consumer preferences.
Connected car adoption is accelerating from 35% in 2015 to around 98% of all cars sold through 2020. The shift from conventional to intelligent vehicles includes growing networks of digital technology and microprocessors within a vehicle powering performance, control and communication systems that can alert and assist drivers, helping to reduce crashes.
Through V2V technology, vehicles wirelessly exchange information about the speed and position of surrounding vehicles to help prevent crashes, ease traffic congestion and improve the environment. The greatest benefits will be achieved when all vehicles can communicate with each other, but in the interim, older vehicles will still benefit from V2X through existing Advanced Traffic Management Systems technology used in most urban areas.
Connected vehicles broadcast and receive omnidirectional messages, providing a 360-degree awareness of similarly equipped nearby vehicles. V2V messaging has a range of around 1,000 feet to assess speed, position and heading. Many vehicles offer driver-assist technologies like blind spot alerts to help prevent crashes, using sensors on the vehicles. Connected vehicles will share this information, for instance alerting a driver when an out-of-sight vehicle several cars ahead is braking.
Roadside infrastructure such as cameras, weather sensors and traffic signals is also part of the edge system. Holding as much information within the vehicle/roadside edge lowers the requirement for expensive transmission capacity. Edge computing optimizes data flow to minimize operating costs, moving information out into the fog as trends develop across the larger traffic ecosystem. Edge systems support reflex-like actions such as detecting wrong-way drivers and immediately notifying surrounding vehicles.
V2X information has been shared via a wireless protocol similar to Wi-Fi known as dedicated short-range communications (DSRC). However, the industry is quickly adapting a new protocol known as C-V2X, which complements cellular technology by offering a similar point-to-point communication mechanism while utilizing the mobile network for long-range applications.
Edge computing can allow traffic management centers to efficiently derive meaningful information from CAV and roadside sensor data.

FOG
Traffic management systems are the mission control or nerve center for an urban area's road system. In V2X applications, they serve in a fog capacity, collecting, combining, analyzing and sharing information both back to the traveling public and to the cloud network for archiving and analysis.
Most of today's intelligent transportation systems use a variety of roadside devices to monitor traffic, identify incidents and communicate with drivers. Cameras can identify and relay events causing backups to a traffic management system, which can then use dynamic messaging signs to communicate with the public, even recommending alternative routes. Advances are now allowing the vehicles themselves to directly communicate with infrastructure, and the infrastructure can also communicate directly with drivers through messages to increasingly ubiquitous infotainment systems. The vehicles themselves are becoming sensors providing data to the intelligent traffic infrastructure.
SwRI is developing the scalable FDOT platform-based cost-saving serverless architecture, building and running services without having to manage the underlying infrastructure. Software developers will write and deploy code, while a cloud provider allows servers to run their applications, databases and storage systems at any scale.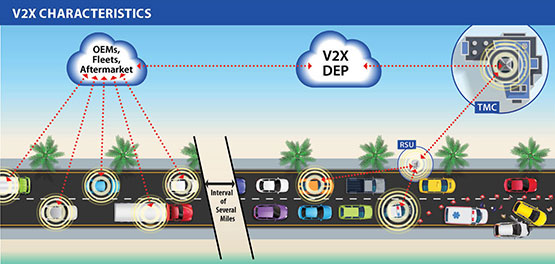 CLOUD
The V2X platform will connect entire networks that will include other devices such as smart phones. Eventually, the vehicle computer vision systems could help identify potential bicycle and pedestrian safety concerns to serve these more vulnerable road users.
The FDOT V2X Data Exchange Platform's cloud-fog-edge-based architecture will make it easier to adapt, maintain and scale. The team is integrating fog and edge data, intelligence and processing capabilities closer to where the data originates — at the network edge. The low-latency system will be optimized to process a very high volume of data with minimal delay. Ultimately data will be archived in the cloud to provide both route-level visualization and historical views of traffic data and events, including daily heat maps for the speeds along a specified route.
Various data warehouse services will intelligently store the data, distributed over several layers to provide rapid access while maintaining long-term data at minimal costs. Preprocessed data will be stored in three components. One data warehouse component will be optimized for quick queries and visualizing data. The "middle" component will support ad hoc and historical queries, and the long-term component will store data that is infrequently accessed. Decision support and data analytics will combine status information with static and historical data to provide actionable information to FDOT.
V2X REALIZED
For more than 25 years, SwRI has been a leader in the development of intelligent transportation systems and machine learning technologies with software deployments at transportation agencies across the United States. SwRI's ActiveITS™ is used in 18 states and territories, which combined have more than 50% of the U.S. population. With this extensive experience, SwRI is developing the FDOT V2X platform to ingest high-volume, high-velocity data from diverse transit sources to enhance safety and mobility on Florida's roads.
Participants in this V2X program include Ford Mobility, which will supply V2X data from its connected vehicle platform; Iteris, a smart mobility company based in California; Florida International University; Amazon Web Services; Google; and several OEMs and logistics and fleet companies.
Questions about this story or Intelligent Transportation Systems? Contact Michael Brown at +1 210 522 3104.