Click below to jump to an article of interest.
SwRI-UTSA invest in joint research
SwRI and The University of Texas at San Antonio (UTSA) announced two new Connecting through Research Partnerships (Connect) projects, each project receiving $125,000 in funding. One project will research ways to mitigate cracking and corrosion in oil and gas piping and related equipment. The other will investigate powering a traffic management system using sustainable thermal energy.
The Connect program enhances scientific collaboration between SwRI and UTSA and increases their research funding base. Since 2010, the joint SwRI-UTSA Connect Program has funded 13 projects.
"The Connect projects selected this year deal with two important infrastructure assets ­— roads and pipelines," said SwRI Executive Vice President and COO Walt Downing. "UTSA faculty and graduate students working together with SwRI scientists and engineers will develop innovative technologies to increase public safety."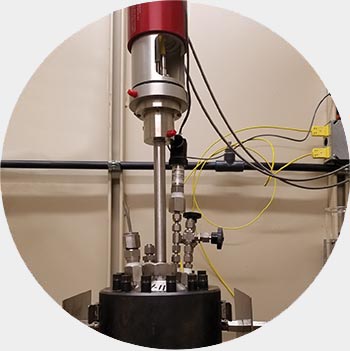 Corrosion
The safety and environmental risks associated with failure of deep sea drilling and pipeline equipment are enormous. Corrosion is a significant risk factor. SwRI and UTSA are working to identify solution chemistries and oxide film compositions associated with localized corrosion and cracking. Using Raman spectroscopy and electrochemical corrosion measurements, the team will evaluate critical corrosion pathways and identify inhibitors or advanced materials to mitigate their effects.
SwRI's James Dante is collaborating with UTSA's Dr. Brendy C. Rincon Troconis on "Effects of Triazine-Based H2S Scavenger Byproducts on the Film Composition and Cracking of Carbon Steel in Oilfield Applications."
"SwRI is a recognized leader in the corrosion community with extensive expertise in the oil and gas industry," Dante said. "SwRI is using this expertise and well-developed testing infrastructure to work collaboratively with UTSA to bring new methods of assessing the mechanisms of corrosion in harsh oil and gas environments."
Traffic Technology
SwRI and UTSA are collaborating to develop a novel traffic system that would harvest ambient energy to power sensors to detect traffic and activate signage. Texas road fatalities in rural areas reached a record high in 2016, about 2.4 times greater than fatality rates in urban areas. A potential cause may be the lack of signals at intersections.
SwRI's Dr. Jerome Helffrich is collaborating with UTSA's Dr. Samer Dessouky on "Promoting Sustainability and Safety for Texas Rural Roadways through Self-Powered Sensing and Detection Systems."
"We are excited about collaborating with UTSA to improve Texas roadways," Helffrich said. "Our work endeavors to combine SwRI expertise in sensors and electronics with UTSA expertise in electronics, highway construction and management. We plan to develop a traffic sensor that is cheaper and less complex than those typically used. This sensor-based system can be implemented in rural areas where costs have discouraged the use of traffic control systems to reduce crashes, fatalities and operational costs."
---
SwRI Wins Two R&D 100 Awards
In 2017, SwRI received two prestigious awards from R&D Magazine. The R&D 100 awards recognized SwRI's Smart LEak Detection (SLED) and High Power Impulse Plasma Source (HiPIPS) systems as being among the 100 most significant innovations for the year.
"Since 1971, SwRI has won 43 R&D 100 Awards, which, in our business, are considered the 'Oscars of Invention,'" said SwRI President and CEO Adam L. Hamilton, P.E. "We're pleased our work has been recognized in such a well-respected forum." R&D 100 Awards are selected by an independent panel of judges and editors of R&D Magazine to honor the top technology products of the year.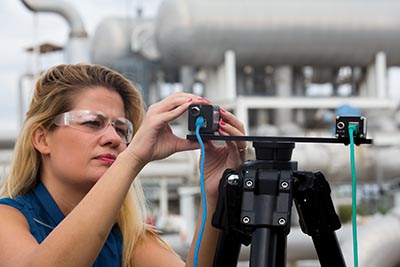 Smart Leak Detection
Leaks in U.S. liquid hydrocarbon pipelines exceeded 100,000 barrels each year between 2007 and 2012. Using algorithms to process images from sensors scanning the infrastructure, SLED can autonomously pinpoint small hazardous leaks before they become major problems, with minimal false alarms. These sensors can be positioned at sensitive pipeline junctures or deployed on drones to cost-effectively fly over pipeline networks.
"It makes both environmental and economic sense to identify the smallest oil and gas leaks as early as possible to help ensure environmental safety and pipeline system reliability," said Maria Araujo, the lead developer for SLED. "The SwRI solution fuses inputs from low- cost optical sensors and applies machine learning techniques to reliably detect the chemical 'fingerprints' of small hazardous liquid leaks, before they become major spills. It can differentiate between a hydrocarbon and an innocuous puddle of water."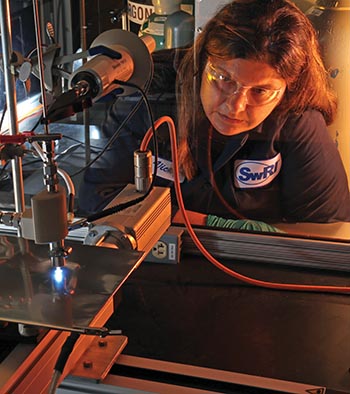 High Power Impulse Plasma Source System
SwRI's HiPIPS system uses high-density, high-flux plasmas at low temperatures and atmospheric pressures to deposit coatings on material surfaces. These coatings extend the life, enhance the properties and prevent damage and corrosion of materials and components. HiPIPS, initially developed under a Defense Advanced Research Projects Agency (DARPA) program, is a convenient, cost-effective alternative to surface engineering techniques that typically require thermal processes or vacuum chambers. Potential applications include coatings on plastics, textiles and biologically sensitive materials as well as depositing protective metallic and ceramic coatings as an environmentally friendly alternative to electroplating.
"HiPIPS has already had groundbreaking successes in developing coatings for defense applications," said Dr. Vicky Poenitzsch, who led HiPIPS' development. "HiPIPS outperforms other ambient pressure plasmas and rivals vacuum plasma systems and could revolutionize the surface engineering industry."
---
Understanding Habitability
Image Courtesy of World View Enterprises
Image Courtesy of World View Enterprises
How did the Earth evolve to be suitable for life, while neighboring planets, such as Venus, have distinctly inhospitable environments?
"The answer to this question has become even more important in recent years, as exoplanets including Earth-sized planets are being detected," said Dr. Robert Grimm, a program director at SwRI's Space Science and Engineering Division. "And looking at those planets that are Earth-sized and seeing to what extent they may be Earth-like is going to be a big focus of future space research."
SwRI's High-Altitude Electromagnetic Sounding of Earth and Planetary Interiors experiment is designed to probe planets from the sky. This experiment recently flew aboard a World View stratospheric balloon, skirting the edge of space to test science payloads in a relevant environment.
The experiment measured the electromagnetic waves in the region between the Earth's ionosphere and the planet's surface, explained Grimm.
"By measuring how these electromagnetic waves penetrate into the ground, we can measure the electrical conductivity of the crust and infer its temperature," said Grimm. "Then if we can determine the temperature inside Venus, maybe we can understand how its internal heating works and how that might have affected its geological history."
For the test flight, the experiment was flown over the Idaho Batholith — a vast complex of relatively young igneous rock that includes several mountain ranges.
The location allowed scientists to measure electromagnetic waves above terrain with crustal properties as similar as possible to that of Venus. Reconciling how Venus and Earth evolved with many similarities but key differences in habitability will require a mission to Venus itself. Testing the electromagnetic sounding experiment at a site like the Batholith is significant progress.
"Geophysicists make these measurements on the ground on Earth all the time," Grimm said. "But it's very hot on the surface of Venus — over 800 °F — so to make a long-duration measurement is just not attainable."
An altitude about 55 km above the surface of Venus provides relatively Earth-like conditions for data gathering, Grimm said, which makes the prospect of a balloon mission to Venus so attractive.
---
Image Courtesy of NASA/University of Colorado
Radiation Rains on Mars
The SwRI-led Radiation Assessment Detector (RAD) aboard NASA's Curiosity rover measured an unexpectedly strong blast from the Sun that hit Mars last fall. RAD scientists combined their data with those from the Mars Atmosphere and Volatile Evolution (MAVEN) spacecraft, led by the University of Colorado Boulder, detecting unparalleled effects at the Red Planet.
"This is exactly the type of event both missions were designed to study, and it's the biggest we've seen on the surface so far," said RAD Principal Investigator Don Hassler of SwRI. "It will improve our understanding of how such solar events affect the Martian environment, from the top of the atmosphere all the way down to the surface."
This solar event sparked a global aurora at Mars more than 25 times brighter than any previously seen by the MAVEN orbiter, which has been studying interactions between Mars' atmosphere and the solar wind since 2014. It also produced surface radiation levels more than double any previously measured by RAD. The high readings lasted more than two days. RAD monitored radiation levels inside the encapsulated spacecraft that carried Curiosity from Earth to Mars in 2011 and 2012 and has been steadily monitoring the radiation environment at Mars' surface for more than five years.
RAD findings strengthen understanding of radiation's impact on Mars habitability, a key objective of the Curiosity mission. NASA is also using RAD findings for planning the safety of crewed missions to Mars. Highly energetic solar events can significantly increase the radiation that penetrates spacecraft as well as the Mars atmosphere.
NASA's Goddard Space Flight Center manages MAVEN and NASA's Jet Propulsion Laboratory manages the Mars Science Laboratory's Curiosity rover.
---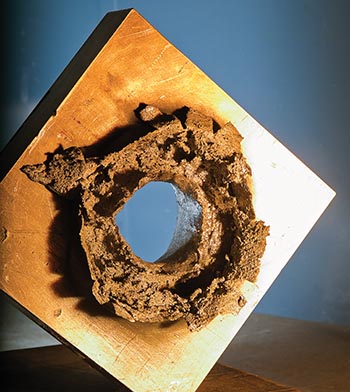 Improving Armor
SwRI received a contract worth up to $4.3 million to improve computational capabilities to assess armor and penetrator technologies as well as soldier survivability for the Army Research Laboratory. The Indefinite Delivery Indefinite Quantity (IDIQ) contract vehicle funds project work over three years, with options to extend it up to five years.
"SwRI is pleased to continue our long relationship with the Army Research Laboratory," said SwRI's Dr. James Walker. "This contract allows the U.S. government and ARL to utilize SwRI expertise in high-rate material behavior, computational modeling, and up-to-full-scale testing to develop better equipment to increase the survivability of the warfighter."
Initial tasks include $271,000 for modeling related to human injury and $30,000 for advancing fracture modeling using EPIC (Elastic, Plastic, Impact Computations), a computational tool developed and maintained by SwRI. The Army uses EPIC to design vehicle and body armors. For more information about Engineering Dynamics at SwRI, visit engdyn.swri.org.
---
Assessing Transportation Cyber Risks
SwRI is working with a leading cybersecurity assessment and advisory firm, conducting a security audit of traffic management systems and developing a web-based guide to safeguarding equipment.The Transportation Research Board awarded SwRI $750,000 to help state and local agencies address cyberattack risks for current transportation systems and future connected vehicles. TRB is part of the private, nonprofit National Academies of Sciences, Engineering, and Medicine.
"The goal is to create security guidance for traffic management centers," said Daniel Zajac, the SwRI engineer leading the effort. "IT and security personnel need to understand threats to their equipment, standards for managing passwords and then move up to advanced network security."
More than 400,000 traffic signal systems across the United States have varying levels of network access and embedded security. System managers and government stakeholders may be unaware of cyber risks to controllers, dynamic message signs, road-weather information systems and other devices that relay data.
SwRI's assessment will include "white hat" hacking, known as penetration testing, to assess vulnerabilities and recommend mitigation strategies. The recommendations will also consider how agencies with limited resources can implement cybersecurity measures.
"Management centers like Austin and San Antonio may have budget and staff for extensive security programs, but smaller traffic systems in rural parts of the state may not," Zajac said. "We have the right experience to help TRB in its effort to bridge gaps in information and resources across the country."
---
High-Temperature, High-Pressure Particle Separator
The U.S. Department of Energy awarded SwRI $1.1 million to develop, build and test a particle separator for use in a flameless pressurized oxy-combustion cycle.
Flameless combustion reduces emissions while retaining thermal efficiencies in power production. To achieve flameless pressurized oxy-combustion in coal-fired plants, pulverized coal is mixed with water and combusted at high pressures. The resulting hot gases are used to boil water, generating steam to move a turbine and produce power. Some of the gases are subsequently looped back into the combustor for a more complete combustion environment that produces even more power. The remaining gases flow through a turbo-expander, a device that extracts additional power from these gases. To protect the turbo-expander from erosion, a separator is needed to remove harmful particulates from the gases.
"Particulate matter in gas streams causes erosion in machinery. Combining these particulates with a potentially corrosive gas can cause corrosion-erosion, which can destroy machinery within months," said Joshua Schmitt, who is leading the project. "The particle separator we are designing will be unique in that it will operate at high temperatures and pressures with minimal pressure lost."
For more information about machinery design and testing at SwRI, visit machinery.swri.org.
---
Calibration Laboratory Expands Services
For more than 30 years, SwRI has serviced internal laboratory equipment to ensure the precision f the range of instruments used by Institute staff, averaging more than 7,600 calibrations a year. Now, SwRI's ISO/IEC 17025-accredited calibration laboratory has expanded its services to accommodate client requests as well.
"We offer a very broad range of calibration services," said Jorge Lopez, manager of SwRI's calibration laboratory. "All calibrations are traceable to national standards. Accredited calibrations support SwRI's, as well as our clients', quality programs. It's a case-by-case discussion with our clients to determine how we can best manage their calibration needs."
Most industries — including manufacturing, transportation, space, oil and gas, chemical and others — use equipment that requires regular calibration. SwRI's research and development activities require specialty devices and instrumentation to make precise measurements.
These systems must be calibrated periodically to ensure measurements are reliable and meet specifications. SwRI calibrates equipment used to make dimensional, electrical, flow, mass, pressure and other measurements or assessments. Technicians can calibrate equipment under various conditions, including thermal, pressure and others.
The laboratory is accredited by the American Association for Laboratory Accreditation ensuring calibrations are traceable to national, international or intrinsic standards.
For more information, call 210.522.5215 or email ICLExternal@swri.org.
---
Advancing Energy for the Air Force
SwRI has received a contract worth up to $49 million to implement and transition energy efficiency and alternative energy technologies to meet U.S. Air Force goals.
This Indefinite Delivery Indefinite Quantity contract award supports the Air Force Research Laboratory Rapid Assessment of Technologies and Energy for the Advanced Power and Technology Office. IDIQs are contract vehicles that fund work tasks over specified periods of time. The SwRI contract period is for seven years.
"SwRI is developing and testing a range of novel energy systems applicable from space exploration to next-generation automotive platforms to renewable energy power grids," said SwRI's Dr. Kent Coulter, co-program manager for the contract. "This diversity in our expertise has provided us the opportunity to work with AFRL on areas of interest to the U.S. Air Force."
The first task of the contract, funded for $500,000, is to design, develop and demonstrate data center modeling techniques to determine methods to optimize energy consumption.
"Data centers use nearly 2.5 percent of the energy produced in the United States," said SwRI's Greg Fletcher, leader of the first task order and co-program manager for the IDIQ. "SwRI is working with the U.S. Air Force to optimize its data centers, which will have sweeping benefits across government and industry, and reduce energy consumption throughout this rapidly growing sector."
---
Projectile Delivery
SwRI scientists recently modeled the protracted period of bombardment following the Moon's formation, when leftover planetesimals pounded the Earth. Based on these simulations, scientists theorize that moon-sized objects delivered more mass to the Earth than previously thought.
Early in its evolution, Earth sustained an impact with another large object, and the Moon formed from the resulting debris ejected into an Earth-orbiting disk. A long period of bombardment followed, the so-called "late accretion," when large bodies impacted the Earth delivering materials that were accreted or integrated into the young planet.
"We modeled the massive collisions and how metals and silicates were integrated into Earth during this 'late accretion stage,' which lasted for hundreds of millions of years after the Moon formed," said SwRI's Dr. Simone Marchi, lead author of a Nature Geoscience paper outlining these results. "Based on our simulations, the late accretion mass delivered to Earth may be significantly greater than previously thought, with important consequences for the earliest evolution of our planet."
Previously, scientists estimated that materials from planetesimals integrated during the final stage of terrestrial planet formation made up about half a percent of the Earth's present mass. This is based on the concentration of highly "siderophile" elements — metals such as gold, platinum and iridium, which have an affinity for iron — in the Earth's mantle. The relative abundance of these elements in the mantle points to late accretion, after Earth's core had formed.
However, new high-resolution impact simulations by researchers at SwRI and the University of Maryland show that substantial portions of a large planetesimal's core could descend to, and be assimilated into, the Earth's core — or ricochet back into space and escape the planet entirely. Both outcomes reduce the amount of highly siderophile elements added to Earth's mantle, which implies that two to five times as much material may have been delivered than previously thought.
---
Expanding Research Footprint
SwRI has expanded its automotive research footprint into Ann Arbor, Michigan, to provide Detroit-area clients more convenient access to SwRI's powertrain engineering services.
Image Courtesy of A&D Technology Inc.
Working with A&D Technology Inc., SwRI now offers powertrain development cells in the Detroit area that augment more than 200 powertrain dynamometers at our San Antonio headquarters. This extends our automotive research and development capacity to conduct high-efficiency powertrain development and emissions research.
"Having a laboratory in Ann Arbor allows us to work more closely with our clients in the region," said Scott Hotz, P.E., who oversees SwRI's Ann Arbor operations. "Working with A&D Technology and its state-of-the-art facilities and equipment will help us meet our clients' needs in a timely and cost-effective manner."
The laboratory space includes three test cells, one of which is equipped with a 275 kW, low-inertia, permanent-magnet dynamometer with maximum speed of 8,000 rpm. The cell is outfitted with SwRI's RPECS® powertrain benchmarking and control system and A&D's system software, including iTest, Phoenix combustion analysis and ORION automated calibration software.
SwRI has had a presence in Ann Arbor for 15 years, applying custom, prototype powertrain controllers, benchmarking powertrain control systems and providing on-site support.
For more information, visit swri.org/sectors/automotive.
---
Image courtesy of NASA
New Horizons
"New Horizons has long been a mission of firsts — first to explore Pluto, first to explore the Kuiper Belt, fastest spacecraft ever launched, and now, we've been able to make images farther from Earth than any spacecraft in history."
-SwRI's Alan Stern,
New Horizons principal investigator
---
Flexible Flight Tests
SwRI is developing software application techniques to improve the agility and cost-effectiveness of flight tests used to qualify military and civilian aircraft.
Funded by the Defense Advanced Research Projects Agency (DARPA) and the Air Force Research Laboratory, the one-year, $791,000 project supports DARPA's efforts to enable military software to adapt to technology changes and security updates over several decades. SwRI will incorporate DARPA's Building Resource Adaptive Software Systems (BRASS) into a universal computer language for flight test vendors.
"Real-time adaptability is a major challenge for military and commercial flight testing," said SwRI's project lead, Austin Whittington. "We see a great opportunity with DARPA's BRASS technology to help expedite industry and military adoption of interoperability standards and adaptation techniques."
Required for aircraft development and maintenance, flight tests use instruments and networks to prove aircraft are ready for service. Testing programs use different instruments to test for hundreds of potential problems. Each test operates using proprietary software with custom "flight test constraints" defining the instrument's capabilities used for problems or situations an aircraft may encounter.
Synchronizing flight testing goals for different instruments is a major challenge for the aerospace industry. A single failure can cause a chain reaction of delays for unrelated tests.
To overcome these issues, SwRI will integrate DARPA's BRASS technology with software interfaces standardized by the DoD's Integrated Network-Enhanced Telemetry program, or iNET. As iNET's lead integrator, SwRI worked with DoD and aerospace stakeholders to define a Metadata Description Language to produce simpler, more cost-effective, vendor-agnostic equipment interfaces. Standardization paves the way for flight tests that better adapt to changing conditions, such as inclement weather or equipment failures.