NASGRO training courses are taught twice each year at the main SwRI facility in San Antonio, Texas, and occasionally in Europe. Training courses can also be taught at client sites in the US or other countries. SwRI engineers have provided NASGRO training to more than 1,100 students in more than 60 different courses since 2006.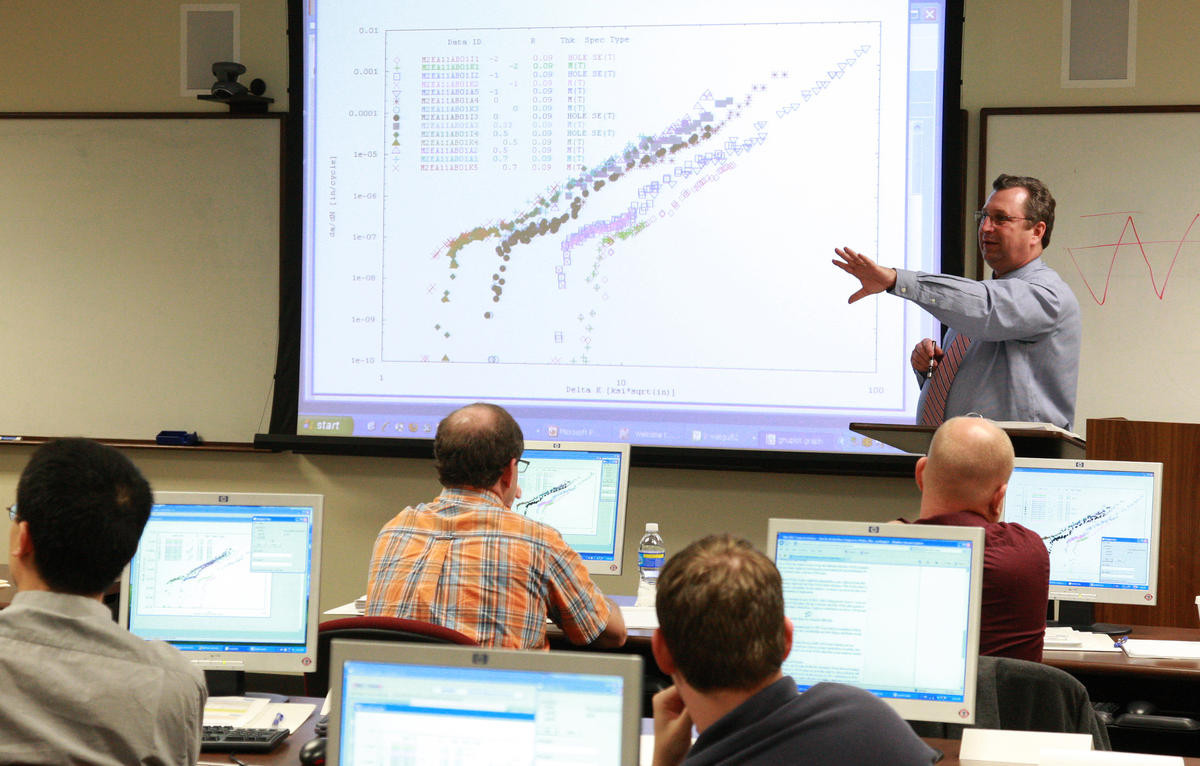 This course is intended for engineers and scientists wanting to become more familiar with NASGRO. Previous background in fracture mechanics is helpful but not essential. No previous experience with NASGRO is required, but even experienced NASGRO users can learn many new things about the software in this course. The course is taught using both lectures and hands-on example problems. Both fracture mechanics theory and NASGRO features are addressed. A typical course agenda is available here.
Training Courses at SwRI
The next three-day NASGRO training course at SwRI is scheduled for April 9-11, 2019. Tuition for this course is $1750. For employees of companies at participating sites in the NASGRO Consortium, tuition is $875. The tuition covers a copy of the course notes, refreshments during the day, lunches, and an informal course dinner for all attendees on the evening of the first day.
The maximum class size at SwRI is 21 attendees, based on one student per available training computer. Registration is first come, first served, based on the order in which payment is received. The course often fills up, so interested students should register early.
To register for a NASGRO training course at SwRI, contact Ms. Alberta "Birdie" Matthews (+1 210 522 3076). Registration will be confirmed only after receipt of payment. Several methods of payment are accepted, including credit cards via a secure registration portal.
Refunds will be provided for registrants unable to attend the course ONLY if written notification is provided to Alberta Matthews no later than 30 days prior to the course. In the unlikely event of insufficient registration, SwRI reserves the right to cancel the course no later than 30 days prior to the course.
For more information about NASGRO classes at SwRI, contact Craig McClung.
Training Courses in Europe
SwRI and the European Space Agency occasionally teach a special joint course on NASGRO and ESACRACK at the ESA Technical Center in Noordwijk, Netherlands. The course is open to citizens of ESA and European Union Member States and the USA (not just ESA employees and contractors). For other nationalities, restrictions may apply. This class covers most of the material in the standard NASGRO three-day class, plus additional lectures on supplementary ESACRACK modules such as ESALOAD and ESAFATIG. The next ESA class is tentatively scheduled for September 3-5, 2019. Contact Gerben Sinnema at ESA for more information about the ESA class. View additional information about this training.
Training Courses at Client Sites
The SwRI team is available to present the NASGRO course at client sites upon request.  Costs to present those courses depend on course duration and location. These fees support the actual expenses of staff time, travel, and reproduction of curriculum materials. The content and length (1-3 days) of the course can be tailored to your specific needs. For more information about NASGRO classes at your site, contact Joe Cardinal.
SwRI has conducted onsite NASGRO training courses for the following clients:
NASA Johnson Space Center, Houston, TX (2018)
European Space Agency (ESA), Noordwijk, The Netherlands (2018)
Leonardo Helicopters, Vergiate, Italy (2018)
NASA Marshall Space Flight Center, Huntsville, AL (2018)
US Army Picatinny Arsenal, NJ (2018)
European Space Agency (ESA), Noordwijk, The Netherlands (2017)
Airbus, Toulouse, France (2017)
Boeing, Huntsville, AL (2017)
RUAG Space, Zurich, Switzerland (2017)
Latecoere, Toulouse, France (2016)
European Space Agency (ESA), Noordwijk, The Netherlands (2015)
SpaceX, Hawthorne, CA (2015)
SpaceX, Hawthorne, CA (2015)
NASA Langley Research Center, Hampton, VA (2014)
AgustaWestland, Vergiate, Italy (2014)
Virgin Galactic, Mojave, CA (2014)
European Space Agency (ESA), Noordwijk, The Netherlands (2013)
European Space Agency (ESA), Noordwijk, The Netherlands (2012)
United Space Alliance, Titusville, FL (2012)
Siemens Energy, Orlando, FL (2012)
Airbus, Toulouse, France (2011)
European Space Agency (ESA), Noordwijk, The Netherlands (2011)
European Space Agency (ESA), Noordwijk, The Netherlands (2010)
Boeing, Houston, TX (2010)
Bombardier Aerospace, Montreal, Canada (2010)
NASA, Langley Research Center, Hampton, VA (2009)
NAVAIR, San Diego, CA (2009)
NAVAIR, Lakehurst, NJ (2009)
NASA Marshall Space Flight Center, Huntsville, AL (2009)
NASA Ames Research Center, Moffett Field, CA (2009)
AgustaWestland, Cascina Costa, Italy (2008)
SpaceX, Hawthorne, CA (2008)
NASA Glenn Research Center, Cleveland, OH (2007)
NASA Marshall Space Flight Center, Huntsville, AL (2007)
Lockheed Martin, Michoud Assembly Facility, LA (2006) 
Hamilton Sundstrand, Windsor Locks, CT (2006)