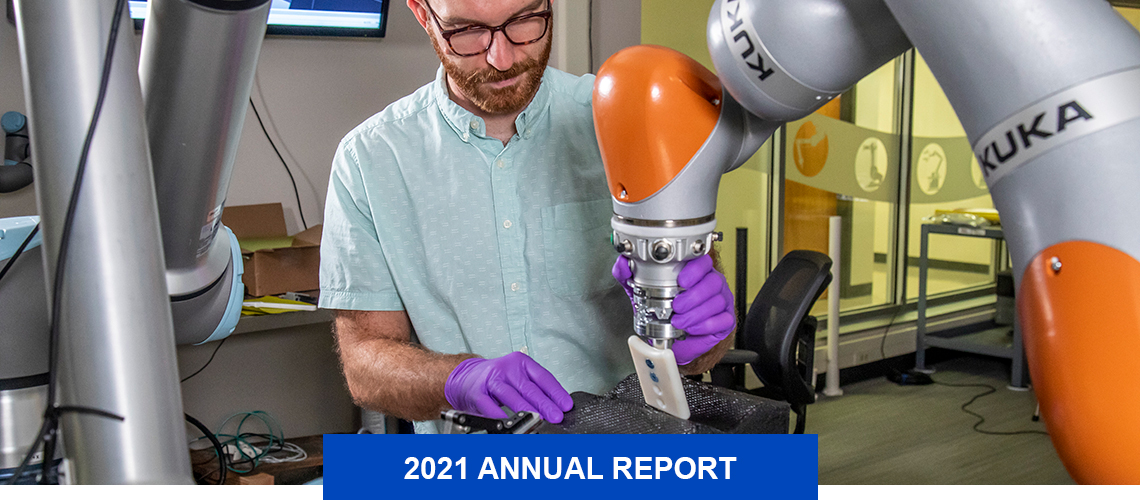 About the Header
SwRI is developing an automated process for manufacturing aerospace parts using robotic placement of composite sheets.
Southwest Research Institute supports the manufacturing industry with advanced automation technology and workforce training. We also help ensure that aging aircraft and new engine designs meet or exceed standards for safety, durability and performance.
MANUFACTURING
SwRI's robotics and automation engineers developed a system that adapts to a wide range of parts for high-mix, low-volume surface-processing applications, such as sanding or painting. Engineers used this Scan-N-Plan™ technology in a system that can paint any component by simply scanning, planning and painting the part.
SwRI has operated the Texas Manufacturing Assistance Center in South Central Texas for 26 years, supporting local small and medium manufacturers and helping them integrate process improvement, robotics and industrial techniques and technologies.
SwRI continues to advance the science of manufacturing, developing new materials and processes as well as data analysis and computational modeling tools. Factories and supply chains are using these tools to enable digital twin/digital thread initiatives. A digital twin models a current product or system, mimicking a company's machines, controls, workflows and systems. The digital thread is a record of its lifetime, from its creation to its removal. These software techniques can predict distortions and defects in parts made by additive manufacturing, model damage in composite aerospace structures based on their design, and use or model how novel coatings could improve the performance and extend the life of manufacturing tools and forging dies.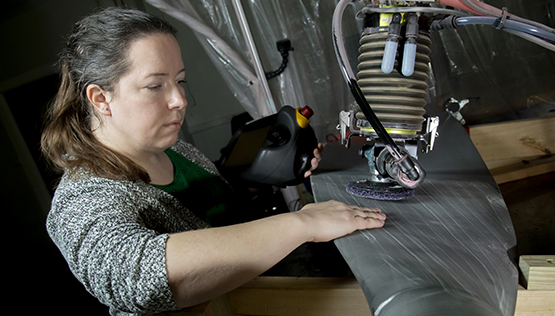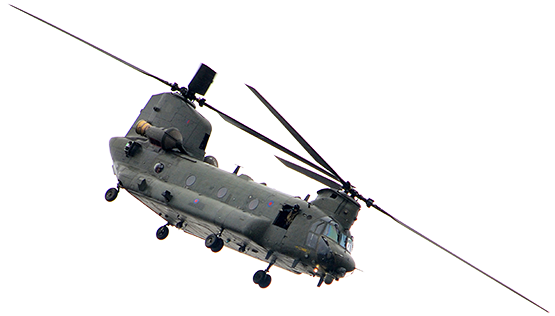 RELIABILITY
SwRI advances materials and manufacturing processes for commercial and defense applications. We continue sustaining aging military aircraft such as the T-38 supersonic trainer and A-10 Warthog under the U.S. Air Force's Aircraft Structural Integrity Program. As the prime engineering support contractor to the Air Force Center for Structural Life Extension and the Air Force Comprehensive Landing Gear Integrity Program, SwRI conducts component and full-scale aircraft testing.
For several years, SwRI has helped revamp maintenance facilities at the Corpus Christi Army Depot, which supports the Army's rotary aircraft. As part of this effort, our engineers also develop test stand technology to support depot maintenance requirements, including two test stands deployed nine years ago that automated several manual actuator test processes. Since then, improvements to the CH-47 Chinook introduced new actuators to the helicopter. In response, SwRI added test stand capabilities to evaluate the new cockpit control drive and improved longitudinal cyclic trim actuators while maintaining the ability to test legacy equipment. These updates included adding time synchronization compatible with a newer flight computer and instrumentation to monitor environmental stresses on the trim actuator.
In 2021, SwRI also finalized a Jet Engine Maintenance Management Application system to support the F100 engines that power F-15 Eagles and F-16 Fighting Falcons used by friendly foreign militaries. The system supports all existing engine configurations and can be adapted for new engines without software changes. The system tracks engine status, documents the maintenance history of engines and components, and allows users to add new part numbers, inspections and life limits. The web-based system can be fielded in a stand-alone, single-base configuration, or it can be used in a "headquarters" configuration where data from multiple military bases are compiled into a single database.
SwRI has decades of experience developing advanced computational modeling software tools to analyze how materials behave under a range of operating scenarios. For instance, SwRI's NASGRO® Consortium marked its 20th year of supporting the fracture and fatigue crack growth software tool used worldwide to make aircraft and other structures safer. SwRI engineers also continue to enhance, utilize and train users on the NASGRO, NESSUS®, DARWIN® and NPSS® software systems to improve the reliability of structures and mechanical systems for the aerospace industry.