Tribology is the science and engineering of interacting surfaces in relative motion, or more simply, the study of lubrication, friction and wear.
It may sound like hyperbole, but tribology is ubiquitous, affecting everything, all the time. Whether you are reading a paper copy of this magazine or a digital version on a tablet, you are using friction to hold it. Whether you are sitting or standing, you are using the perfect balance of friction to stay where you are and not fall over or slip off your chair. Consider how you adjust your gait when navigating a slippery surface. Tribology affects the clothing you wear and how it feels against your skin. Tribology determines how food feels in your mouth and how toothpaste behaves on the brush and your teeth. Think about how your joints work and how your eyelids glide imperceptibly over your eyes when you blink. Tribology affects how cosmetics feel during application and over the course of the day. And tribology allows a car with regular maintenance to work like a well-oiled machine without wearing out.
Now that we have established how tribology plays into every aspect of daily life, it is easy to see its role in almost every program area at Southwest Research Institute. Because tribology is so universal, it follows that it affects products and processes from deep sea to deep space and everywhere in between.
DETAIL
The term tribology, which comes from the Greek for "the study of rubbing," was first used in 1966 in a report about the costs of friction, wear and corrosion in the United Kingdom.
A key component of tribology is friction, or the resistance to motion, which can cause huge energy losses. In cars, this translates to reduced fuel economy or range, whether they are powered by conventional fuel or batteries. Lubrication provided by a liquid or coating is the primary method of reducing friction. SwRI established the Tribology Research and Evaluations group 11 years ago in the engine and drivetrain field, helping engine and lubricant manufacturers reduce their frictional losses and improve their lubricants and coatings. SwRI now has more than 3,200 square feet of laboratory space at its San Antonio campus dedicated to tribology research, development and testing. The facility is equipped for standard — and many novel — tribology test methods and houses several state-of-the-art tribometers and other equipment. Due to the multidisciplinary nature of tribology, over time, SwRI's tribology team has expanded to work collaboratively with many clients outside of the automotive industry.
DETAIL
A tribometer is a laboratory bench instrument that measures tribological properties between two surfaces in contact, such as coefficients of friction, frictional heating and wear.
Although much of the work is still vehicle based, cosmetics, contact lens solutions, weed trimmers, rocket parts and downhole drilling devices are often scattered around the labs. We've tested and helped develop many strange and unexpected items and often wonder what weird and wonderful request will come in next.
Cost-Saving Bench Tests
Tribometers replicate relative motion, forces, operating temperature and environment, all important in replicating exact conditions. These bench-top rigs are designed to rub parts together in different ways. Because tribology is interactive in nature, the tribology team attempts to use sections of real parts to accurately replicate the conditions under study. This ensures the correct material properties and surface finishes are being tested. The test rig reproduces reciprocating, oscillating, rotating, sliding and slipping movements, measuring friction and wear as well as temperatures and controlled parameters throughout the test. To meet the needs of SwRI's diverse clients, tribometers must be modified or new test rigs need to be developed. For example, using internal funding, we are currently adapting tribometers to run driveline fluids in an electrified environment to understand potential effects on friction and wear for electric vehicles.
One of the tribology team's first projects was designing a new test rig to screen diesel engine lubricants for valvetrain and tappet wear. A valvetrain controls the intake and exhaust valves in an internal combustion engine, and a tappet converts the rotating motion of the camshaft into the linear motion of the valves.
Lubricant manufacturers must license their products with the American Petroleum Institute before lubricants can be put on the market. These products must pass numerous ASTM standard engine tests on a dynamometer to certify that the lubricant meets minimum performance specifications for valvetrain wear, cylinder bore protection, fuel economy, sludge and several other parameters. These engine tests are costly and time-consuming, often running for hundreds of hours. The tribology team designed a lubricant screening test to evaluate lubricants before putting them through the more comprehensive and expensive Cummins ISB diesel engine dynamometer test. Developing this bench test began with a question: If you close your eyes and imagine you are on the valvetrain in the engine, what do you see, feel and smell? Through this process, the team noted all the different conditions that needed to be replicated in the test rig.
DETAIL
A vehicle's driveline is the powertrain minus the engine and the transmission, including the driveshaft, differentials, axle shafts, and universal and constant-velocity joints.
The single-cam valvetrain fixture has a pushrod operating the inlet and exhaust valves. The test rig includes a cutaway engine head, a section of the camshaft, the original camshaft bearings and an aluminum facsimile of the engine block as well as the valves, springs and levers, which can affect system wear. Drilled pathways deliver the test lubricant at accurate pressures, and temperatures replicate the inlet and exhaust sides of the engine, with the exhaust side running hotter. The team created a machined sleeve for the camshaft tappet to allow rotation to be measured, resulting in the group's first patent. The rig is fitted with the same inline torque meter, motor and operating system used for the engine test.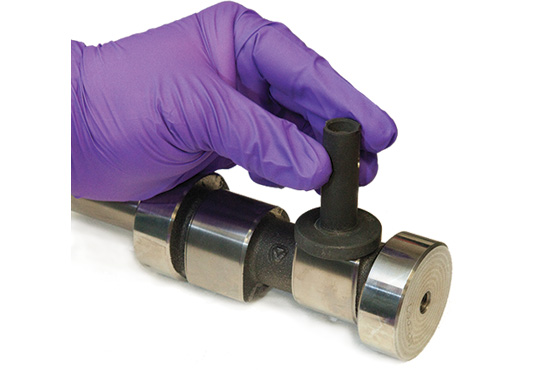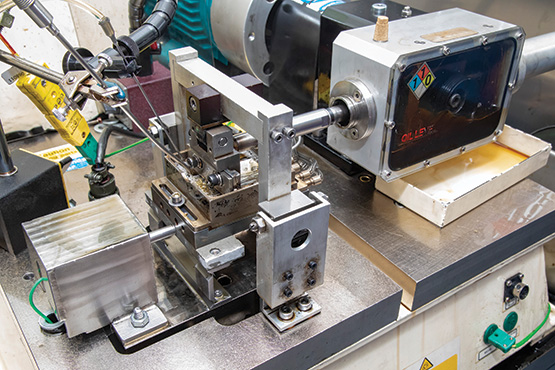 The tribology team then conducted a matrix of tests to ensure bench results correlated with engine tests. Once that was achieved, SwRI used the test rig to screen candidate oils at approximately one tenth the cost of the full engine test, eventually adding a second rig to meet customer demands. Prescreening lubricants in the bench rig has reduced wear in engine tests, allowing more candidate oils to be tested for the same budget, while saving thousands of gallons of diesel fuel and allowing corresponding emission reductions.
Tribo-Corrosion
Recently, SwRI adapted a standard reciprocating bench rig to study friction and wear in downhole oil and gas drilling applications. This harsh environment accelerates wear and corrosion in drilling equipment. The corrosion on steel piping was of particular concern to the client, so SwRI's industry experts on staff proved an invaluable resource. The tribology team consulted with SwRI corrosion specialists to set up a closed-loop flow system for the test fluid, gas and chamber.
The testing had to replicate hot, high-pressure, oxygen-deprived downhole environments while incorporating drilling fluids consisting of salt water, lubricants and other additives. The team modified the reciprocating rig to create a sealed, pressurized chamber to simulate the downhole conditions. The test setup had to control the introduction of test fluids and gases and measure dissolved oxygen levels in the fluid to parts per billion. This "tribo-corrosion" test can control the corrosive environment for the duration of the wear test.
Typically, these tests are performed in open test cells, exposed to ambient lab conditions. Excess salt build-up from heated test fluids, coupled with exposure to air, creates unrealistic corrosion of parts because air and oxygen are not present in actual downhole environments. The SwRI-developed tribo-corrosion test created realistic corrosion seen in the real drilling system, allowing the effects of different drilling fluids to be better understood.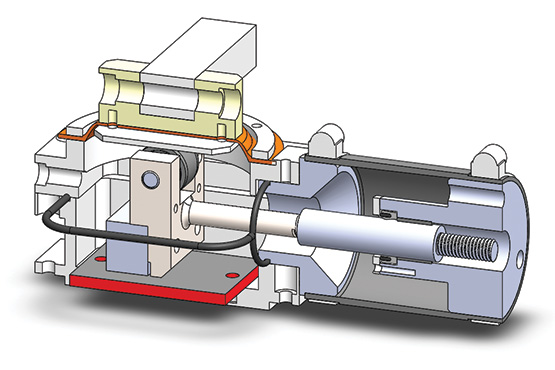 Rheology
Rheology, which complements tribology, deals with the deformation and flow of "soft" solid and liquid materials, particularly fluids that change viscosity and other properties under strain. For example, ketchup becomes less viscous when shaken because it's a shear thinning material. Viscosity refers to a fluid's resistance to flow and corresponds to the informal notion of "thickness."
While rheology is a universal science important in a range of industries, it's not very well known. Rheology examines the behavior of fluids and materials under different stresses — like pressures and temperatures — to understand the internal behavior of a fluid. Understanding flow properties can help solve problems in a variety of applications.
Rheology provides insight into the "lubrication" side of tribology. Rheology explains why materials behave the way they do. Why do certain paints leave streaks, and others don't? Why do cosmetics tend to cake over time? If you cook, you've likely used rheology without even realizing it, adding more flour to thicken a sauce or adjusting the amount of dry ingredients to get the perfect cookie.
DETAIL
The term rheology was inspired by Greek words for the observation that "everything flows" and applies to substances that have complex microstructures, such as muds, sludges, biological materials and soft matter such as food.
Cookie Connection
Speaking of cookies, rheology affects the assembly of sandwich cookies with cream fillings. At the factory, a nozzle deposits a controlled amount of cream onto one cookie before the other is pressed on top of it. A food manufacturer came to SwRI when a new cream flavor was overfilling the cookie and stalling production. The client delivered tubs of chocolate and vanilla creams, as well as a mystery-flavored cream, to the lab. Because the chocolate and vanilla behaved as expected in the factory, they were used as controls in the analysis. The SwRI team developed a rheology profile to map the optimum flow conditions for the mystery flavor. Then they adjusted the pumping speed, temperature and nozzle size so the mystery flavor would fill the cookies without issues.
Chip Packaging
In another food application, the tribology group developed a method to study the friction and wear for belts used in potato chip production, working with SwRI manufacturing specialists to help optimize the assembly line. When potato chips are packaged, they are fed through a hopper, deposited into bags and sealed. The bags are on a large roller, pulled into place with rubber belts. Unfortunately, these belts tend to wear like an eraser, and the rubber shavings could contaminate bags of chips. To address the problem, the team looked at various types of belts in a bench-top tribometer.
These belts are backed with "teeth" that attach to the drive pulleys, much like a timing belt on an engine. To study these belts in a tribometer, the team 3D-printed a plate with matching grooves. The test involved rubbing a metal pin against the belt over time at a set speed, measuring the belt wear and the pin friction to determine performance. To make it more realistic, potato chips were crushed onto the belt to add oil. With the potato chip oil acting as a lubricant, the friction and wear changed slightly but the belts had the same ranked performance.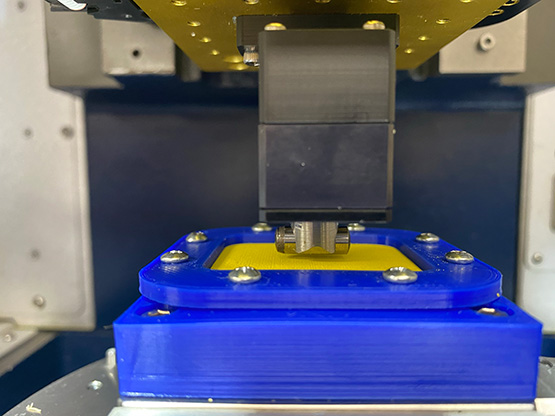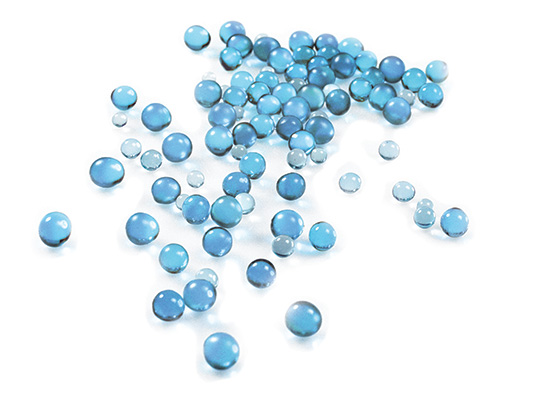 Drug Delivery
To further illustrate the breadth of the field, the team collaborated with SwRI's chemists to study drug delivery systems. For more than 60 years, SwRI has used encapsulation technologies at micro- and nanoscales to find solutions in food, pharmaceutical, cosmetic, consumer product, veterinary medicine, industrial chemical, biomedical and sensor applications. For much of that time, SwRI has specialized in microencapsulation of various drugs for controlled release.
Typically, active ingredients are encased in small capsules of waxy substances. These compounds are designed to melt or dissolve under certain conditions, releasing the drug. For a specific effort, rheologists measured the viscous behavior of capsule materials at various temperatures to determine the "flow point," when the solid wax melts and starts to flow like a liquid. Then they measured the viscosity under increasing stress, looking to lower the viscosity and allow the medication to travel easily through the body.
Drug delivery, cookie filling, chip packaging, pipeline corrosion and engine lubrication are just a few of the eclectic problems SwRI has solved in its specialized tribology lab. This facility is recognized as one of the premier tribology research and evaluation laboratories in the world, with a specialized staff able to address challenges in a wide range of industries and arenas.